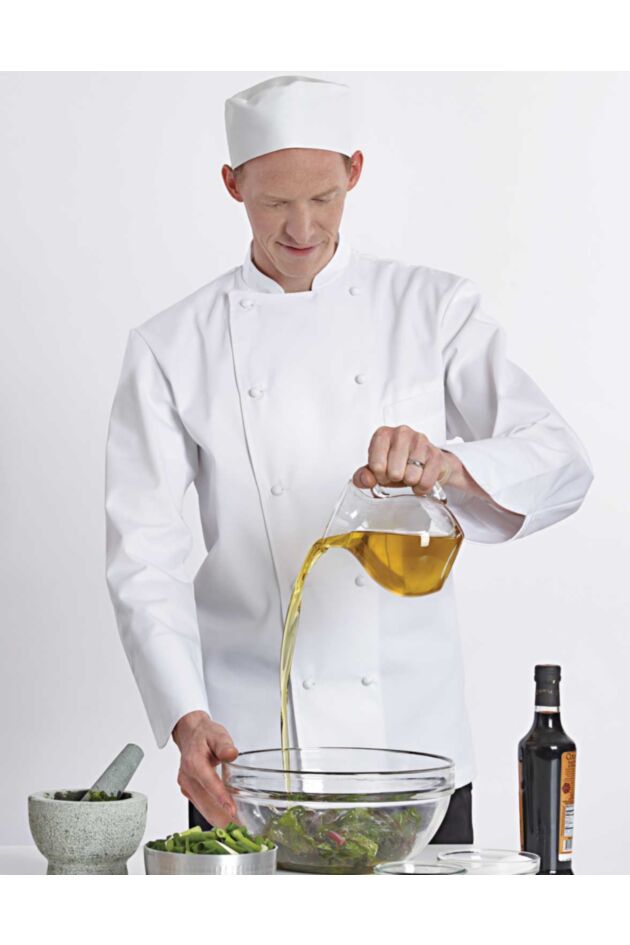 ALFREDO CHEF JACKET
$79.95
<! -- Panneau comprendre ce prix**-->
Worldwide delivery
Free Shipping on orders above $500
Returns accepted within 30 days, excluding personalized items
Introducing the Alfredo Chef Jacket, the perfect combination of style and functionality. Made by B-everyday, this jacket is the ultimate choice for chefs who want to look professional and feel comfortable in the kitchen.
Crafted with the finest quality fabric, this chef coat is designed to withstand the toughest of kitchen environments. It features a classic design that includes a double-breasted front, a stylish collar, and long sleeves with foldable cuffs. The jacket is available in different sizes, ensuring a perfect fit for every chef.
At Everyday Uniforms, we understand the importance of finding the right chef jackets. That's why we offer a wide range of chef coats and jackets that cater to your unique needs. Whether you're a professional chef or a culinary enthusiast, our collection of chef jackets will exceed your expectations.
So, why wait? Upgrade your culinary wardrobe with the Alfredo Chef Jacket today and experience the difference for yourself. Shop now to get the best deals on chef jackets near you.
Do you want to get to know the people behind the making of our pieces? We present them to you a little below . a little below . .
Know-how kept in good hands.
Here is the team behind the manufacture of our products.
Élodie takes care of the cutting of the fabrics, Sophie manages the sewing, the hems or even the laying of the pockets when Sandrine checks that no thread protrudes from the embroidery.
And all these steps take place under the expert eye of our production managers Cathie and Pauline.
This is how more than 53 passionate little hands work every day to reinvent the French textile industry in our Spinalien workshop.
Faqs
You can easily buy a chef jacket from Everyday Uniforms, the most trusted vendor for chef clothing created by Benjamin Bragard. Our online store offers a wide range of chef jackets to choose from, ensuring you get the perfect fit and style for your needs.
A chef's jacket is also known as a chef coat, chef jacket, chef coat, or chef's whites. It is a common attire worn by professional chefs in the kitchen.
Long sleeve chef jackets come in a range of styles and colors to suit any taste or preference. Chef jackets can come in a variety of options differentiated by color, including classic white, modern black or denim, fasteners: Double-coated buttons jacket or velcro fastener, and different collar types.
Depending on the type of kitchen you're working in and what tasks you'll be doing, there are a few other pieces you may want to consider investing in. Aprons help protect your clothes from splatters, while chef hats and hair nets can keep your hair from getting in the food. Non-slip shoes and waterproof gloves are also essential for safety in the kitchen.
Yes! Chef Jackets provide an extra layer of protection from spills and burns, making them a must-have for any kitchen. They also look professional, so you can stay stylish while you work.