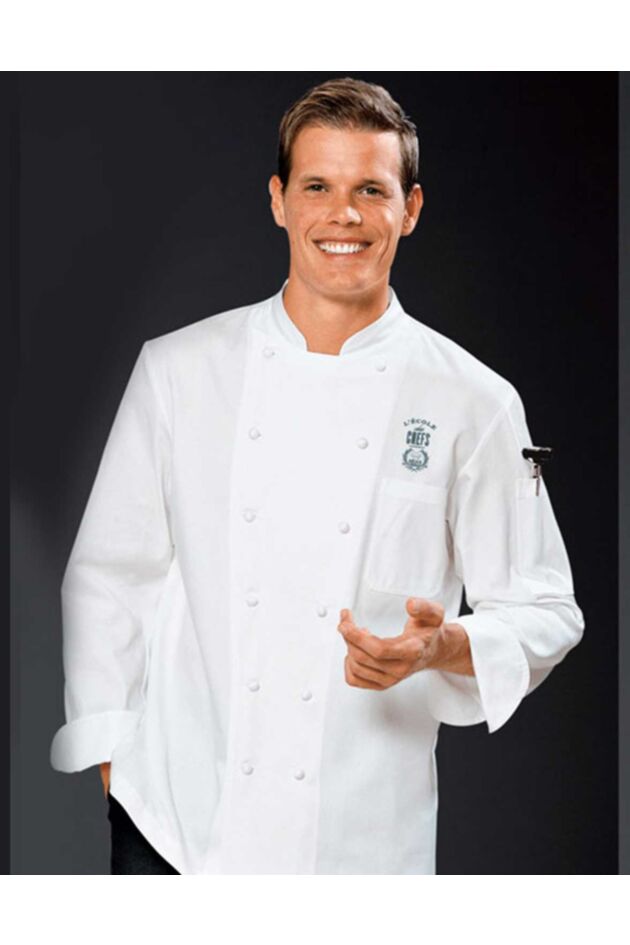 NAVALO CHEF JACKET
$94.95
<! -- Panneau comprendre ce prix**-->
Worldwide delivery
Free Shipping on orders above $500
Returns accepted within 30 days, excluding personalized items
Introducing the perfect chef's jacket for your needs: The Navalo Chef Jacket! Our chef's coat is crafted from 100% premium quality fine cotton, making it breathable and comfortable along with giving it a stylish look. It's tailored with a European style and has an underarm ventilation system so you never overheat in the kitchen.
On top of that, it features hand-rolled crush-resistant buttons, a double-stitched patch pocket, and even a pen pocket on the sleeve. This sleek and strong chef's jacket is sure to keep you looking your best and performing at your highest level. Cooking can often be strenuous and tiring - but when donned in the Navalo Chef Jacket, you'll feel light on your feet and be able to work energetically all day long! Try out this new coat that matches the modern demands of today's professional chefs for an unbeatable cooking experience. With its contemporary design and superior manufacturing techniques, you won't find another jacket that combines class with comfort like this one!
Do you want to get to know the people behind the making of our pieces? We present them to you a little below . a little below . .
Know-how kept in good hands.
Here is the team behind the manufacture of our products.
Élodie takes care of the cutting of the fabrics, Sophie manages the sewing, the hems or even the laying of the pockets when Sandrine checks that no thread protrudes from the embroidery.
And all these steps take place under the expert eye of our production managers Cathie and Pauline.
This is how more than 53 passionate little hands work every day to reinvent the French textile industry in our Spinalien workshop.
Faqs
Chef Jackets typically come in cotton, polyester or a blend of the two. Cotton is breathable and comfortable to wear, while polyester is more durable and resistant to spills and stains. Both can be found in short sleeve or long sleeve varieties.
Long sleeve chef jackets come in a range of styles and colors to suit any taste or preference. Chef jackets can come in a variety of options differentiated by color, including classic white, modern black or denim, fasteners: Double-coated buttons jacket or velcro fastener, and different collar types.
Yes, Chef Jackets are designed to be machine washed for easy cleaning. Be sure to check the care instructions before washing as some Chef Jackets may require special care.
Long sleeve chef jackets provide protection from splashes, spills, and other kitchen hazards while also keeping your professional look intact. They are also comfortable to wear in hotter climates as they help to keep you cool. Also, many chefs prefer the look of longer sleeves for a more polished, refined and classical look.
Chef Jackets come in a variety of colors and styles, so you can find one to fit your kitchen's aesthetic. Whether it be a classic white Chef Jacket or something more modern, like denim or black chef jacket, there is sure to be an option that fits your style.