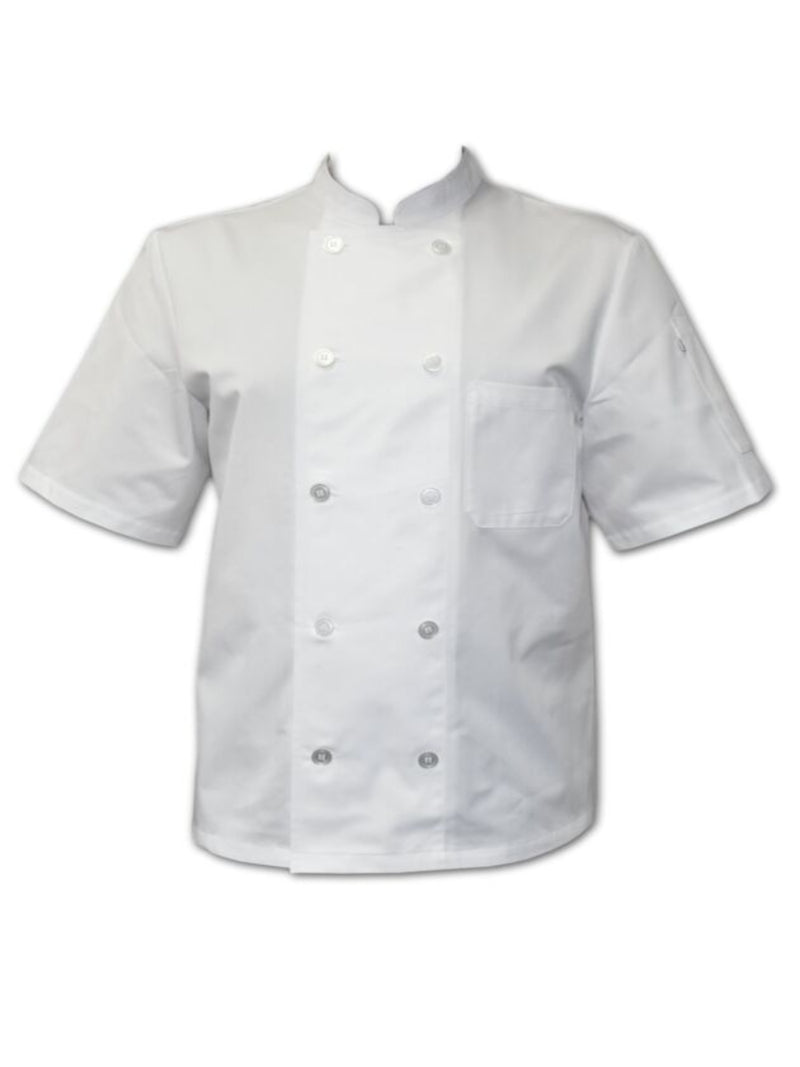 TOM CHEF JACKET - SHORT SLEEVES
$34.95
<! -- Panneau comprendre ce prix**-->
Worldwide delivery
Free Shipping on orders above $500
Returns accepted within 30 days, excluding personalized items
Create a professional look in the kitchen with the Tom Chef Jacket - Short Sleeves! This jacket has been designed to be comfortable and durable, all while maintaining a classic, sophisticated style. Crafted from a blend of 65% polyester and 35% cotton, this material is lightweight, breathable, and comfortable enough to wear all day. 
For an elegant finish, this chef jacket has ten 4-hole pearl buttons running in two parallel rows along the length of it. A chest pocket provides space for storing essential ingredients or other small items you need on hand when cooking. An additional pen pocket on the sleeve gives added convenience for jotting down recipes or instructions quickly and easily. 
Suit up in style with Tom Chef Jacket - Short Sleeves! Whether you are running your own restaurant or attending culinary school, you will look professional and polished every time with this timeless design.
Do you want to get to know the people behind the making of our pieces? We present them to you a little below . a little below . .
Know-how kept in good hands.
Here is the team behind the manufacture of our products.
Élodie takes care of the cutting of the fabrics, Sophie manages the sewing, the hems or even the laying of the pockets when Sandrine checks that no thread protrudes from the embroidery.
And all these steps take place under the expert eye of our production managers Cathie and Pauline.
This is how more than 53 passionate little hands work every day to reinvent the French textile industry in our Spinalien workshop.
Faqs
Short Sleeve Chef Jackets are usually made from a variety of fabrics like cotton and polyester blend, which make them breathable and easy to clean.
It depends on your needs and style preference. Long sleeve Chef Jackets provide extra protection from splashes and spills, while short sleeve Chef Jackets allow for greater freedom of movement in warmer kitchens. Choose whichever style best fits your needs and aesthetic.
Short sleeve chef jackets usually come with two or three pockets on the chest, giving you plenty of space to store your utensils and tools.
Chef Jackets come in a range of prices, so you can find one that fits both your budget and needs. investment in quality Chef Jackets is an investment in your health and safety.
Short sleeve chef jackets are perfect for the busy kitchen, as they provide protection from hot spills and splashes while still allowing. But if you try to avoid burns, opt for long sleeve jackets