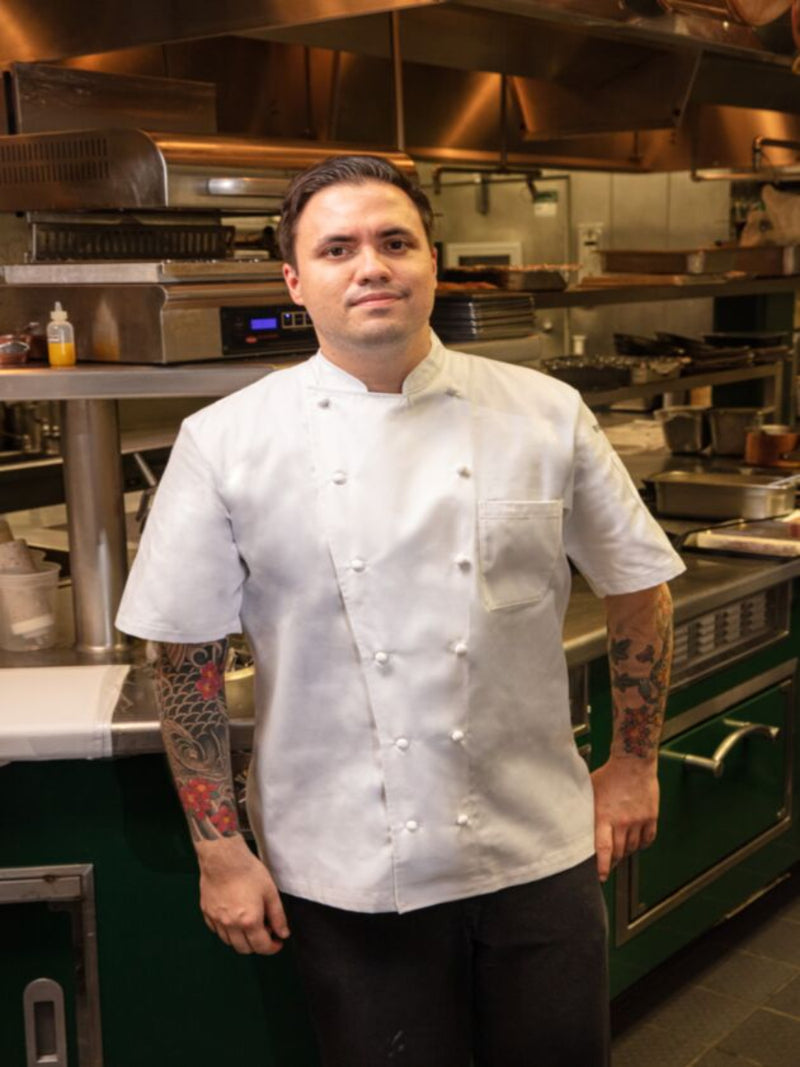 ALFREDO CHEF JACKET - SHORT SLEEVE
$69.95
<! -- Panneau comprendre ce prix**-->
Worldwide delivery
Free Shipping on orders above $500
Returns accepted within 30 days, excluding personalized items
Introducing the Alfredo Chef Jacket-Short Sleeve, the ultimate short-sleeve uniform for culinary professionals. Designed by B-everyday, this chef coat is both stylish and functional, making it the perfect choice for chefs and cooks of all levels.
Crafted from high-quality materials, the Alfredo Chef Jacket features a classic design that is both comfortable and durable. The short sleeves allow for increased range of motion, while the lightweight fabric ensures that you stay cool and comfortable even in the hottest kitchens.
Whether you're looking for chef jackets near me or simply need a new chef coat, the Alfredo Chef Jacket is the perfect choice. With its superior quality and attention to detail, this chef jacket is sure to become a staple in your culinary wardrobe.
So why wait? Order your Alfredo Chef Jacket today and experience the perfect combination of style, comfort, and functionality. With its timeless design and superior quality, this chef coat is sure to make you look and feel your best every time you step into the kitchen.
Do you want to get to know the people behind the making of our pieces? We present them to you a little below . a little below . .
Know-how kept in good hands.
Here is the team behind the manufacture of our products.
Élodie takes care of the cutting of the fabrics, Sophie manages the sewing, the hems or even the laying of the pockets when Sandrine checks that no thread protrudes from the embroidery.
And all these steps take place under the expert eye of our production managers Cathie and Pauline.
This is how more than 53 passionate little hands work every day to reinvent the French textile industry in our Spinalien workshop.
Faqs
You can easily buy a chef jacket from Everyday Uniforms, the most trusted vendor for chef clothing created by Benjamin Bragard. Our online store offers a wide range of chef jackets to choose from, ensuring you get the perfect fit and style for your needs.
Short Sleeve Chef Jackets are usually made from a variety of fabrics like cotton and polyester blend, which make them breathable and easy to clean.
Chefs wear short sleeves to help keep them cool in the hot kitchen environment. Short sleeve chef coats are designed to be breathable and allow for ease of movement, which helps chefs stay comfortable while they work. Additionally, short sleeves can help prevent accidents in the kitchen by reducing the risk of sleeves catching on hot surfaces or getting caught in kitchen equipment.
A chef's jacket is also known as a chef coat, chef jacket, chef coat, or chef's whites. It is a common attire worn by professional chefs in the kitchen.
Most chefs wear a t-shirt or a light cotton undershirt under their jackets to absorb sweat and keep them comfortable during long hours in the kitchen.