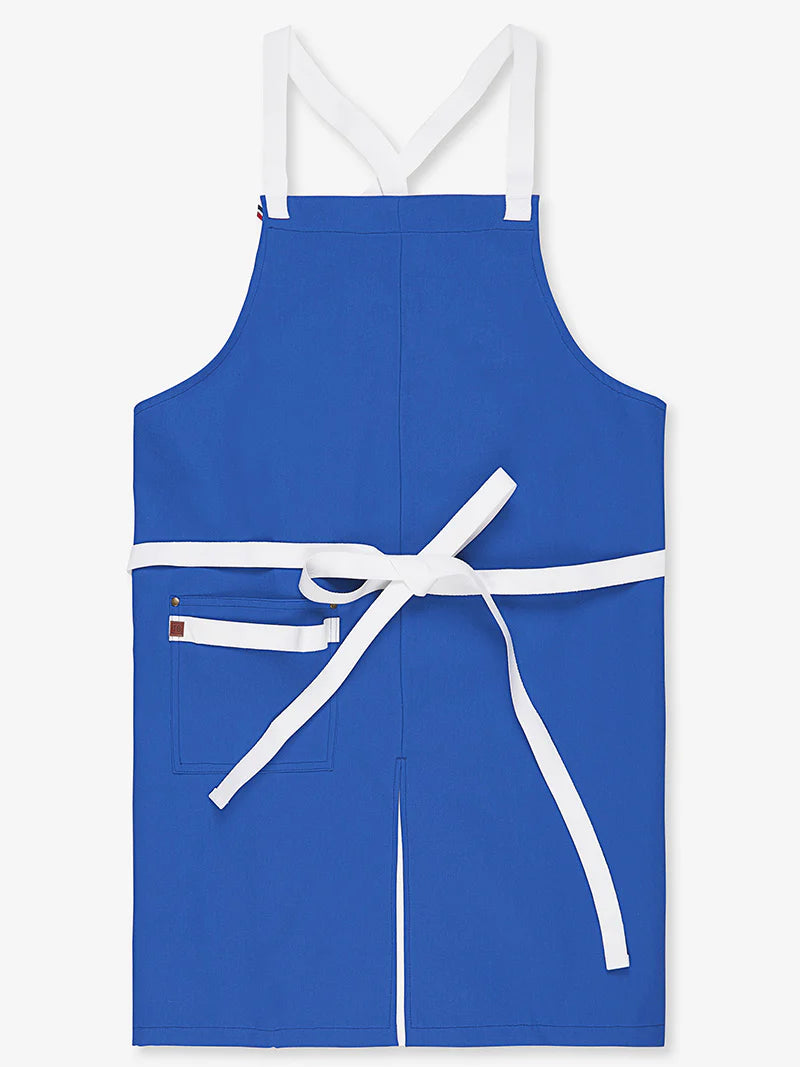 Rumba apron
$55.00
<! -- Panneau comprendre ce prix**-->
Worldwide delivery
Free Shipping on orders above $500
Returns accepted within 30 days, excluding personalized items
Mixed bib apron designed in Polycotton fabric (65% Polyester / 35% Cotton) which does not wear out 
Cross straps in the back help to relieve the neck from the weight of the apron.
A pocket on the right with contrasting cloth and a small tricolor strap
Sizing: 
Height: 85 cm
Width: 80 cm
Composition: 100% OEKO-TEX COTTON ® -310 gr/m2
Introducing the Rumba Apron by Atelier TB, the perfect blend of style and practicality for all professional chefs out there. Made from the finest Polycotton fabric in Épinal, Vosges, this bib apron is designed to withstand everyday wear and tear, making it a must-have for every busy kitchen.
Our Rumba Apron is designed for maximum efficiency, with its simple maintenance fabric that does not degorge. It comes with a unique cross braid system in the back that helps relieve the nape of the weight of the apron, ensuring maximum comfort while you work.
The Rumba Apron also features a pocket on the right with contrasting cloth and small tricolor braid, adding a touch of style to your chef uniform. Atelier TB has taken care of every detail, making sure this apron hits the bull's eye with its unique features.
Measuring at 85cm in height and 80cm in width, the Rumba Apron is the ideal size for chefs of all sizes. Whether you're a man or a woman, this apron is the perfect fit for all. Plus, its unisex design makes it a great choice for both male and female chefs.
Shop with us at Everyday Uniforms, where we bring you the best chef wear aprons in the market. Our Rumba Apron is a customer favorite and is highly recommended by our loyal customers. Don't settle for less, choose the best chef aprons and elevate your kitchen game with Atelier TB.
Do you want to get to know the people behind the making of our pieces? We present them to you a little below . a little below . .
Know-how kept in good hands.
Here is the team behind the manufacture of our products.
Élodie takes care of the cutting of the fabrics, Sophie manages the sewing, the hems or even the laying of the pockets when Sandrine checks that no thread protrudes from the embroidery.
And all these steps take place under the expert eye of our production managers Cathie and Pauline.
This is how more than 53 passionate little hands work every day to reinvent the French textile industry in our Spinalien workshop.
Faqs
Chef aprons and waist aprons both typically feature one or two pockets on the front of the garment.
Yes, from classic black chef aprons to colorful waist aprons, there is something for everyone available on everyda-uniforms.com
A bib apron is a type of apron that provides coverage to the chest and torso, as well as the legs. It typically features a strap that goes around the neck, as well as ties that go around the back, to secure the apron in place. Bib aprons are commonly worn by chefs, as well as other kitchen staff, to protect clothing from spills and splatters while working in the kitchen.
There is no difference between a bib and an apron - a bib is simply a style of apron that provides coverage to the chest and torso, as well as the legs. Bib aprons are commonly worn by chefs and other kitchen staff to protect their clothing from spills and splatters while working in the kitchen.
When selecting an apron with pockets, make sure to consider functionality, fabric and fit.